How can a breath of wind bring excitement and turmoil to a town and induce an unexpected … collection !? With a smile we retrace the story of Marcovaldo in Italo Calvino's story "fungi in città" (mushrooms in the city).
An unexpected collection
A worker in a northern city, at the turn of the 60s and 70s, Marcovaldo is the head of a large family that lives in a small city apartment. He is a man of hard work, he works in the factory and makes a decent but modest life. But he has a special quality: he is a great observer of the world around him, not the city world with its lights, signs, blinding colors. He notes everything that is special and unusual: he focuses on the details of nature, a hole in a woodworm on a table or a peel of a fruit on the pavement, the one that for others is basically banal but which he thinks about, of listening to one's inner world.
One morning, while waiting for the tram to go to the factory, he sees in a flowerbed of a city coursed with mushrooms, just sprinkled, after a wave of spores led them to this unusual place and a wet night made them germinate.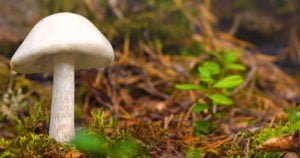 Mentre è al lavoro ci pensa e ci ripensa. Per lui, umile manovale, quella è un'occasione per far gustare alla moglie e ai suoi sei figli un piatto prelibato che altrimenti non potrebbe permettersi. Con l'immaginazione quasi ne segue il crescere lento ora dopo ora, il rigonfiarsi della polpa man mano che raccolgono l'acqua dal terreno. Ne esce anche un sentimento di preoccupazione che qualcun'altro se ne accorga. E ogni giorno, prima e dopo il lavoro, torna a controllare la loro crescita progressiva, mentre avvisa la famiglia che per pranzo la domenica seguente avrebbero degustato un piatto prelibato a base di funghi.
Quando finalmente arriva la domenica, dopo una notte di pioggia utile a farli crescere ancora, giunge il momento fatidico della raccolta, Marcovaldo porta felice tutta la famiglia a raccoglierli e scopre che i funghi sono nati un po' dappertutto in città e tanta gente li sta raccogliendo. Così, nell'euforia generale, nessuno si preoccupa di chiedersi se sono buoni, anzi, man mano il tam tam della presenza dei funghi in città si diffonde sempre più fino a diventare una grande festa domenicale. La raccolta collettiva si risolve però in un ricovero generale in ospedale, dato che i funghi erano velenosi!
While at work he thinks about it and thinks again. For him, a humble laborer, that is an opportunity to let his wife and his six children enjoy a delicious dish that otherwise he could not afford. With imagination he almost follows them slowly growing hour after hour, the swelling of the pulp as they collect the water from the ground. The result is also a feeling of concern that someone else is aware of what he discovered. So every day, before and after work, he goes back to checking their progressive growth, while he warns the family that for lunch the following Sunday they would taste a a delicious dish based on mushrooms.
When Sunday finally arrives, after a rainy night useful to make them grow again, the fateful moment of the harvest arrives, Marcovaldo brings the whole family happy to collect them and discovers that the mushrooms are born a little everywhere in the city and so many people are there collecting. Thus, in the general euphoria, no one bothered to ask themselves if they are good, indeed, as the tam tam of the presence of mushrooms in the city spreads more and more until it becomes a great Sunday party. However, the collective collection is resolved in a general hospitalization, since the mushrooms were poisonous!
Fortunately, the protagonists have only managed with a "gastric washing" as Calvino writes, but unfortunately this is not always the case!
Delight and risk on the table!
Now it is obvious to us that the mushrooms gathered in a strip of land at a tram stop might not be edible! But the story reminds us that we must never lower our attention to this issue, given that every year in autumn in Italy mushroom poisoning syndromes affect hundreds of unwary consumers!
Everyone knows that mushrooms could be dangerous and deadly, but even if we know it sometimes we don't pay enough attention, especially if we are inexperienced: the toxicity depends not only on the type but also on the place of collection and the cooking methods!
If it is true that care must be taken in choosing these products, however it would be a pity to eliminate the mushrooms from the diet, given their surprising gastronomic qualities and nutritional properties. Perhaps not everyone knows that there are institutions that often silently, like mushrooms, take care of the supervision of the mushrooms that come to the table!
Nowadays we are certainly more fortunate and prepared than the Calvino era: there are hundreds of mycological inspectorates in each province, in the ASL offices, which work softly for us and offer advice and control of the edibility of the mushrooms collected by private citizens.
In addition to this, at the mycological centers consultations are carried out on the correct method of preserving and using edible mushrooms and the fundamental control of the mushrooms intended for sale, which allows them to be at ease when instead of picking them in the forest we buy them from our shop confidence.
The advice for the first aid in case of suspected intoxication is also fundamental: by identifying the fungus responsible for the poisoning, they can assist the poison control center which then suggests the most appropriate treatment.