During this coronavirus pandemic, hospitals have had to reorganize their structure. Intensive care units have been the focus of this reorganization. In this article, we will explain the restructuring of the new intensive care departments.
The Increased Demand
As COVID-19 cases have grown, the number of critically ill patients has also shown a sudden increase. At first, they were placed in existing intensive care facilities together with other patients. The need of allocating new intensive care units, exclusively for COVID-19 patients, soon became more evident.
Intensive Care Units Dedicated to COVID-19 Patients
A certain number of existing intensive care departments have been selected and reserved for patients affected by COVID-19. With the increasing number of patients in need of intensive care, it soon became clear that there weren't enough places available in the hospitals. As a result, other areas of the hospitals, those intended for other uses, had to be repurposed as additional intensive care facilities.
Creation of Dedicated Facilities
Hospitals went from having only 1 intensive care unit (with 4-8 beds) to 2-4 intensive care units dedicated solely to COVID-19 patients. Thus, hospitals increased their places from having an average of only 6-8 beds to having around 40 beds! Where did all these facilities come from?
Existing Facilities
In some cases, existing facilities have been repurposed. For example, intensive care units intended for cardiac surgery have been dedicated to patients affected by the virus. In this case, no modifications of any kind were made to the facilities themselves.
Operating Theatres
Operating theatres have been repurposed as well. Instead of performing surgeries, which have been permanently suspended, every operating room has been transformed into an intensive care unit, replacing the existing equipment with beds. Each room has been filled with 2 to 4 beds, ventilators, dialysis machines, and infusion pumps.
The recovery rooms of operating theatres in some hospitals have become resuscitation rooms.
New Facilities
In other cases, where operating theatres were not enough, new intensive care units have been built from scratch. New dedicated facilities have been created to receive the many patients in need. All the materials were brought in a hurry and an entire department was set up in just over a week. 
New Room Logistics
In all this turmoil, health workers had to change and adapt their way to work. The first important difference is between the "open plan" and the "single room" intensive therapy units.
Intensive Therapy Units: Open Plan
These are large open plan rooms where all patients and staff are together. Workstations with computers etc. are also included here. In this type of room, the virus can easily spread everywhere. The staff at work wear full protection at all times.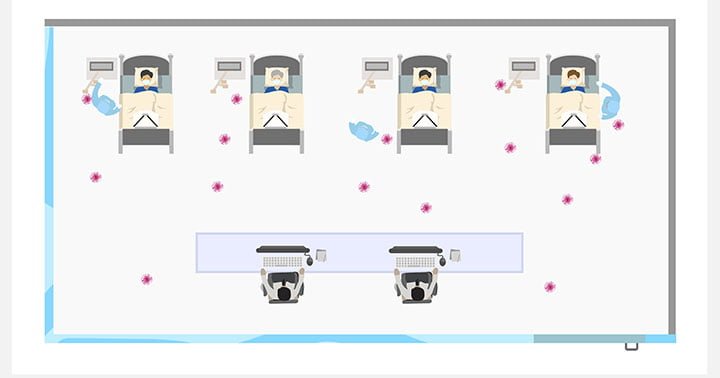 Advantages:
All communication between the staff happens quickly

because everybody is in the same room.

The unique working environment allows for

greater "closeness" and collaboration

.

Health workers

do not have to change clothes frequently

,

and therefore there is

less waste of protective equipment.

Greater mental organisation: When you are at work

,

you

are aware that

you are in an environment at risk.
Disadvantages:
Taking breaks is not always possible

for

the

staff –

tiredness

and

frustration

level

s

may be high;

Working on the computer is more challenging

when

wearing double

gloves and

being in a noisy environment;

Communication between staff is limited

to no more than a few precise orders.
Intensive Therapy Units: Private Rooms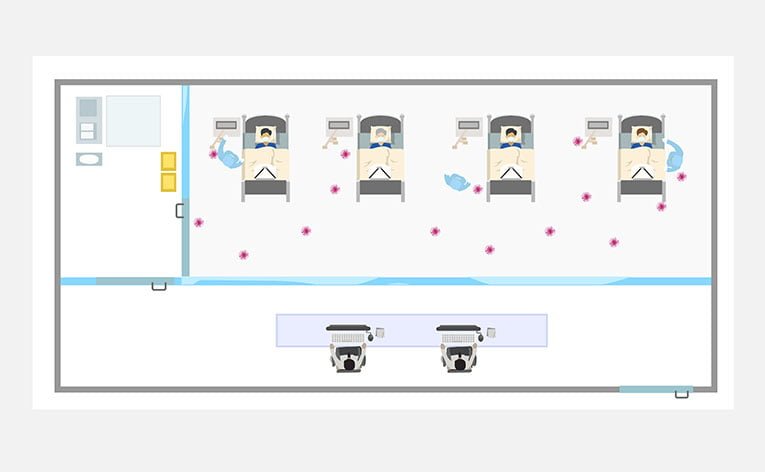 Private rooms with multiple beds provide a separate space for infected patients, doctors, and other health workers. In their separate area, doctors and nurses can carry out other activities which do not require contact with patients.
What are these activities? Here are the most common ones:
Prescribing

medicines

Requesting

and

evaluating tests
Communicating with colleagues

in

choos

ing

the most appropriate therapies for

patients
All these activities do not normally take place in the same environment where patients are located.
The virus is present in inpatient rooms, but not in external ones; this has several advantages and disadvantages compared to the open plan system.
Advantages:
The staff can

alternate between care activities and technical or admin activities

in different environments.

The staff can

also

alternate between tiring activities with less demanding

ones

.

There is

less fatigue and frustration

during shifts,

and thus a greater

possibility to perform longer shifts with

more

efficiency;

There is also

greater efficiency and concentration

during administrative tasks.
Disadvantages
:
The unique working environment allows for

greater "closeness"

and collaboration of

the

staff

.

Operators need to

change more frequently

, and therefore, there is an i

ncreased use of personal protective equipment

.

Increased mental organisation: When you are at work

,

you

are aware that

you are in an environment at risk.

There may be

communication problems

between the staff who care for the patients and the management personnel

.

There is a

need for specific communication systems

.
In this article we discovered how intensive care units dedicated to COVID-19 patients are organised. We will continue this journey and discover more in future articles.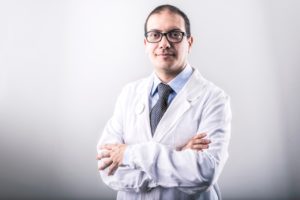 Dr. Marco De Nardin
ALSO READ: