Yes, we did it!
I do not deny that at the beginning there was a bit of skepticism:

Christian: "You'll waste a lot of time making videos like that!"
Piergiorgio: "It will be a business to work with the green screen!"
Giulia: "And how will the audio come?"
But we did not lose heart, and after some hard work, finally, we are pleased to present you the new Med4Care studio !! From this studio we will tell you about Med4Care – medicine, health information, and news. It's a multi-function studio, with multiple sections in each of which we have different set-up based on the topic we will cover.
NEWS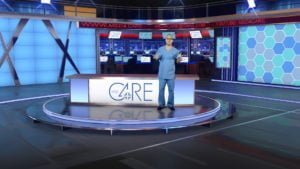 At the center of the studio is the classic newscasting structure, with a large oval platform in the middle on which an important desk for the announcers stand; on the sides, in the background, various monitors will be used to view the news; and in the background the editorial staff.
FURTHER INFORMATION AND LESSONS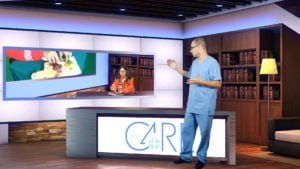 On the right side of the studio, we created the section on thematic insights and lessons, with a desk, a library, and some couches. It is a somewhat reserved environment, it can also be used as a sitting room for interviews or to express one's opinions.
EXERCISES AND FITNESS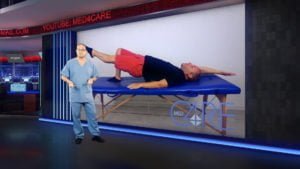 On the left side of the studio, we have reserved a section dedicated to the part a little more dynamic, intended for activities that require movement, in which we will propose the exercises to be carried out to improve our fitness and posture and fitness tips.
We hope that this new scientific dissemination environment can contribute with its charm to provide ever richer, more intense and captivating content! And now … let's get it started!
If you want to see the video presentation of the studio, click on the link: https://youtu.be/uCNihPvdE04
Dr. Marco De Nardin, Director of Med4Care