In this article we will explain why there is no need to be afraid of the virus; because all you need to do is just to stay at home.
Being an anesthesiologist, allow me to clarify why countries such as Italy are taking these drastic measures.
The Coronavirus' main issue is not its severity, since it is only about 10 or 20 times more dangerous than the flu. So you may ask yourself why we consider it more serious than the flu? Reasons are:
It's different, so we're not used to it.

The elderly are not vaccinated.
So, who is at most risk? As always, it is the seniors that are at higher risk for such viruses. Children are much less at risk and no serious pediatric cases have been reported yet.
So, why are we so concerned? It is because the virus is MUCH MORE INFECTIOUS than common flu, meaning it is easily transmitted.
At this point, we can make some calculations to understand the problem better.
The Flu
For example in Italy, over a flu season of 5 months, common flu usually affects about 10% of the population. Since the total Italian population is 50 million, flu can potentially affect around 5 million Italians in 150 days (30 days in 1 month * 5 months = 150 days). Given mortality is 0.1%, we can estimate that there are around 5000 deaths (almost all elderly) in 150 days, every year. For each reported death, we can suppose to have about 4 to 5 patients in critical conditions, and that each of them should be put into intensive care. Therefore, if 25,000 patients are put in intensive care over 150 days, considering an average stay of 7 days per patient, it means that around 1,000 to 2,000 patients per day go into intensive care during the Italian winter.
Let's summarize:
Infectivity: 10% potential (real data) = 50 million * 10% = 5 million infected, of which the vast majority are unaware.

Mortality: 0.1% estimated = 5 million * 0.1% = 5000 deaths in 150 days.

Critic cases: 5 * 0.1% = 25,000 patients in 150 days. Therefore, there are about 1,000 to 2,000 patients in intensive care per day for the flu.
In Venice, the province where I live, there are only 60 intensive care beds for 1 million inhabitants. We can then assume that there may be around 4,000 beds throughout Italy. This means that in the worst-case scenario, patients with flu and complications, such as pneumonia, may occupy between 25% to 50% of Italy's intensive care, over the flu's seasonal peak.
Coronavirus
Let's now see how this applies to Coronavirus. We have to remember that the big difference is that the Coronavirus is extremely more infectious. It could potentially infect us in 30 to 60 days, instead of 150 days. Now let's suppose 60 days for the purpose of these computations. Having an estimated data of the Coronavirus affecting up to 60% of the population, we can do some calculations:
Infectivity: 60% potential (estimated data) = 50 million * 60% = 30 million infected, of which the vast majority are unaware.

Mortality: estimated 1-2% = 30 million * 1% = between 500,000 and 1 million deaths in 60 days.

Critic cases: 5% = 30 million infected * 5% = 1,500,000 patients in 60 days. Therefore, about 300,000 patients in intensive care.
But what happens if we only have 4,000 beds? How can we put 300,000 patients into ICU with only 4,000 units available?
DO YOU NOW UNDERSTAND WHY SHOULD WE JUST STAY AT HOME?
If you stay at home, there are less chances of you getting infected. The small action of staying at home makes a big difference. Us, doctors and nurses, will take care of the few who are infected, such as the eldery and few younger patients, by placing them in intensive care, treating them, and having them return home virus-free. A little number of patients at a time.
If, on the other hand, everyone leaves the house at the same time, there is a higher risk that more people will get infected, therefore we cannot manage the situation, causing a significant increase in mortality.
DON'T PANIC, BUT TAKE THIS SERIOUSLY. PLEASE, STAY AT HOME.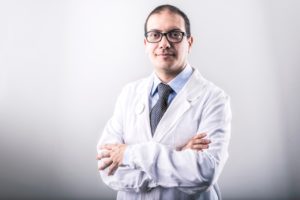 Marco De Nardin, MD, anaesthesiologist and intensive care doctor
READ ALSO: